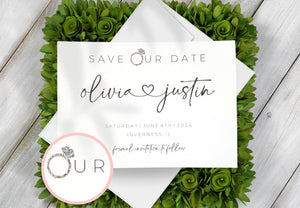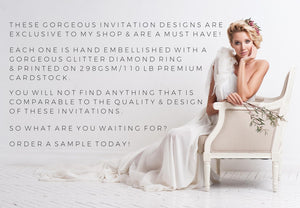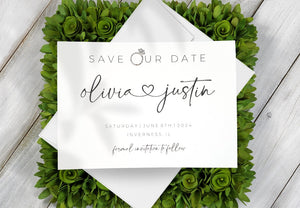 SAVE OUR DATE
These Save Our Date Invitations Are One-Of-A-Kind! They Are Hand Embellished With A Silver Glitter Diamond Ring. You Won't Find These Anywhere Else! These Are Definitely Eye Catching With The Sparkly, Yet Elegant Glitter Diamond Ring Embellishment. These Will Be Sure To 'WOW' You & All Of Your Wedding Guests.
Please Continue Scrolling For More Listing Photos.  They Are Hidden At The Bottom Of The Page With The Theme Used.

PLEASE NOTE: A SIGNATURE IS REQUIRED AT THE TIME OF DELIVERY FOR ORDERS CONTAINING 10 OR MORE SAVE THE DATES.
For More Information, Please Scroll Down To The Bottom Of This Listing For Terms & Conditions Regarding Signature Requirement. You May Opt Out Of This Service If You Absolutely Do Not Want It, However, These Are High Value Invitations That Require A Lot Of Time & Cost To Create. You Don't Want These Delivered To A Wrong Address, Left Out During Heavy Rainfall, Or Stolen Off Your Front Porch....And Neither Do We! Opting Out Of This Service Does Not Cover Any Of The Events Listed Above. This is For YOUR Protection.


PRODUCT DETAILS:



CARDSTOCK: Printed on Premium 298gsm / 110lb Cover Cardstock OR Premium Pearlescent 290gsm / 107lb Cover Cardstock
ENVELOPES: 80lb Square Flap Envelopes (Grocery=70lb; Olive=70lb)
DIGITALLY PRINTED & HAND EMBELLISHED WITH A SILVER GLITTER DIAMOND RING


PRE-PRINTED SAMPLES:
These Are Not Personalized.  Select The Option "PRE-PRINTED SAMPLE" & Type "SAMPLE" In All The Text Fields With The Exception Of The Envelope Color Text Field.  You Will Receive An Envelope With This Option.
A Pre-Printed Sample & Envelope Will Be Shipped To The Shipping Address Provided At Checkout



PERSONALIZED SAMPLES:


Select The Option "PERSONALIZED SAMPLE"
Fill Out All Of The Information Required In The Text Boxes
Your Personalized Sample & Envelope Will Be Shipped To The Shipping Address Provided at Checkout




READY TO ORDER?



Select How Many Invitations You Require
Fill Out All Of The Information Required In The Text Boxes
Do Not Add Any Additional Information As There Is Limited Printing Space On This Design.  If You Require Additional Information, Please Reach Out To Us First To Make Sure We Can Accommodate Your Request.  
PEARLESCENT CARDSTOCK:  Only Available In Black Print. 
If Your Require Color Printing, You MUST Select The Matte White Option.
MATTE CARDSTOCK:  Color Print Is Available, However, Limited To The Font.  We Cannot Change The Color Of The Cardstock.
If You Require Color Printing, You MUST Purchase A Personalized Sample Before Placing A Large Order.  This Is To Ensure Customer Satisfaction As These Are High Value, High Cost Invitations. 
Most Customers Will Come Back After Ordering A Personalized Sample In Different Font Color Requesting Black Print.  

The Color On Your Screen/Monitor Will Likely Be Slightly Different Than The Color You Receive On Your Physical Product.
WHAT TO EXPECT AFTER PLACING AN ORDER:

You Will Receive A Digital Proof Within 48 Hours That You Must Confirm. The Digital Proof Will Not Have The Physical Glitter Ring Embellishment (Because It Is Digital). Only The Details.  Production Will Not Begin Until You Have Approved Your Final Draft.

PLEASE BE AWARE THAT IN THE EVENT YOU DO NOT ACCEPT THE PROOF & WISH TO CANCEL, YOU WILL BE REFUNDED MINUS A $20 CANCELLATION FEE FOR TIME SPENT. THIS IS NON-NEGOTIABLE.
You Will Receive Up To 8 Proofs At No Additional Charge.  This Is Why We Require A $20 Cancellation Fee If You Decide To Cancel. 
Once You Have Approved Your Final Draft, No Modifications Or Changes Can Be Made.  Your Order Will Go Straight Into Production.  Please Make Sure You Are 200% Satisfied With Your Final Proof Before Submitting Your Confirmation.  We Can Wait As Long As You Need To Work Out All The Little Details.
TURNAROUND TIME:
That Depends On YOU.  If You Finalize Your Proof Within A Day, You Can Expect To Receive Your Invitations Within 1-2 Weeks.  We Do Require You Give Us 7 Business Days To Process Your Order.  


ENVELOPES:

If You Do Not Wish To Use The Envelopes That Are Included In The Price And Wish To Purchase Your Envelopes From Another Vendor, You May Do That. Please Continue Reading.

The Envelopes Currently Cost 20 Cents A Piece At The Amount Purchased Through Our Vendor Each Time. EXAMPLE : If You Order A Pack Of 100 Invitations And Wish To Opt Out Of Our Envelope Selection, You Will Be Refunded $20.

100 Invitations x 20 Cents = $20

You Will Need To Select An Envelope Color Before Checking Out, But You May Leave A Note To Me Confirming That You Do Not Wish To Receive Any Envelopes. At The Time Of Processing Your Order, I Will Submit A Refund For The Envelopes That You Do Not Wish To Receive.



A SIGNATURE IS REQUIRED FOR DELIVERY ON PURCHASES OF 10 OR MORE INVITATIONS:


This Is To Ensure Delivery To The Correct Address. We Will Pay The Additional Fee To Protect Your Purchase From Being Delivered To An Incorrect Address.
This Is Also To Protect You From Package Theft Or Having Your High Value Invitations Damaged During Heavy Rainfall And Inclement Weather If Left Outside.
If You Have Your Invitations Sent To A Business Address, YOUR Signature & Proof Of Identification Will Be Required.  Only YOU May Sign For It.  Packages Sent To Business Addresses Get Handled By Too Many People & More Often Than Not...GET LOST.  We Do Not Recommend This Method At All.  This Method Will Not Cover Any Lost Packages With A Signature That Does Not Match Your Own.  It Must Be YOUR Signature.  Please Reach Out To Me For More Details.
If You Know You Will Not Be Home On The Day Of Expected Delivery, Please Make Sure You Contact USPS To Have Them Re-Deliver On A Day You Will Be Home OR Have Them Hold Your Package At The Post Office For Pick Up.  If You Hold For Pick Up, The Name On The Package Is The Only Person Who Can Pick It Up Per USPS Policy.  They Will Require Proof Of Identification For You To Pick Up Your Package.  Please Make Sure The Name & Address On The Shipping Label Will Match The Identification Of The Person Picking It Up.
IF YOU DECLINE SIGNATURE SERVICE:


In The Event You Decline Signature Service & Your Package Is Delivered To An Incorrect Address, Stolen, Or Damaged During Inclement Weather, We Are Not Responsible For Re-Sending A Replacement Or Refunding You. We Will Only Take Responsibility With The Signature Service Agreement. This Is For YOUR Protection.
We Stand Firm On Our Policies Regarding This Matter. Thank You For Your Understanding.